Concordia Quartet – Soaring with the Wind 123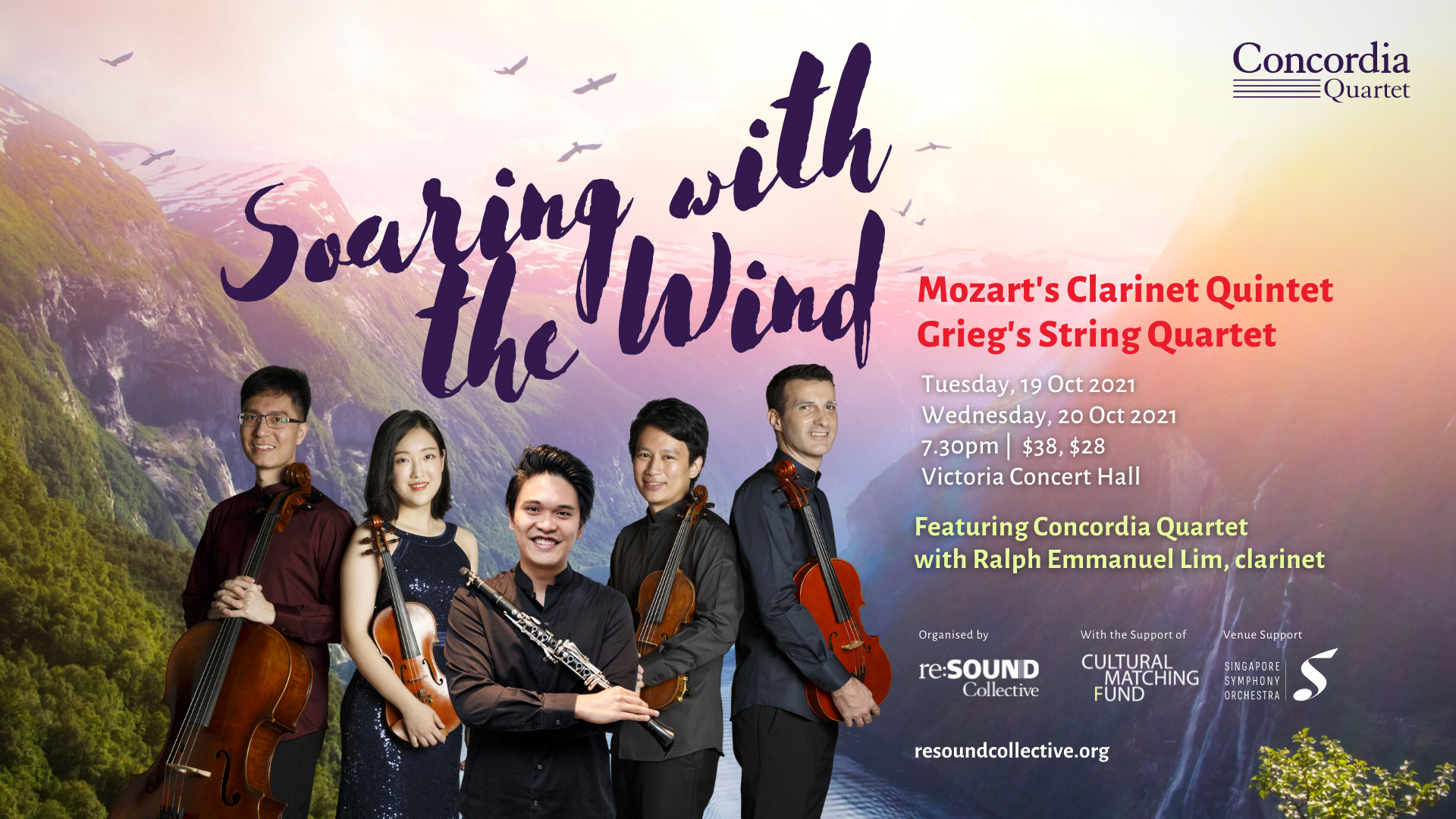 Concordia Quartet – Soaring with the Wind
Tuesday, 19 October 2021
Wednesday, 20 October 2021
7.30pm
Victoria Concert Hall
Featuring

Concordia Quartet
Edward Tan
Kim Kyu Ri
Matthias Östringer
Theophilus Tan
with Ralph Emmanuel Lim (clarinet)
---
Concordia Quartet invites you to a dance of the soul, featuring the only clarinet quintet Mozart ever composed, and Grieg's only existing and completed string quartet of today.
Joining the quartet is clarinetist Ralph Emmanuel Lim who leads us in the first flight with Mozart's groundbreaking Clarinet Quintet, one of the composer's finest late works.
We then ride the winds into Grieg's String Quartet, a soaring flight that brings you through moments of tension, a gripping passage like no other.
PROGRAMME
Wolfgang Amadeus Mozart
Clarinet Quintet in A Major, K 581
Allegro
Larghetto
Menuetto
Allegretto con variazioni
Edvard Grieg
String Quartet No. 1 in G minor, Op. 27
Un poco andante – Allegro molto ed agitato
Romanze: Andantino
Intermezzo: Allegro molto marcato – Più vivo e scherzando
Finale: Lento – Presto al saltarello
90 min. No intermission
This will be a LIVE concert, at the Victoria Concert Hall, safely distanced. Proof of vaccination or a valid Pre-Event Test (PET) result is required. Resound Collective will not be providing PET services. Please book your tickets early.