A Piano Escapade 123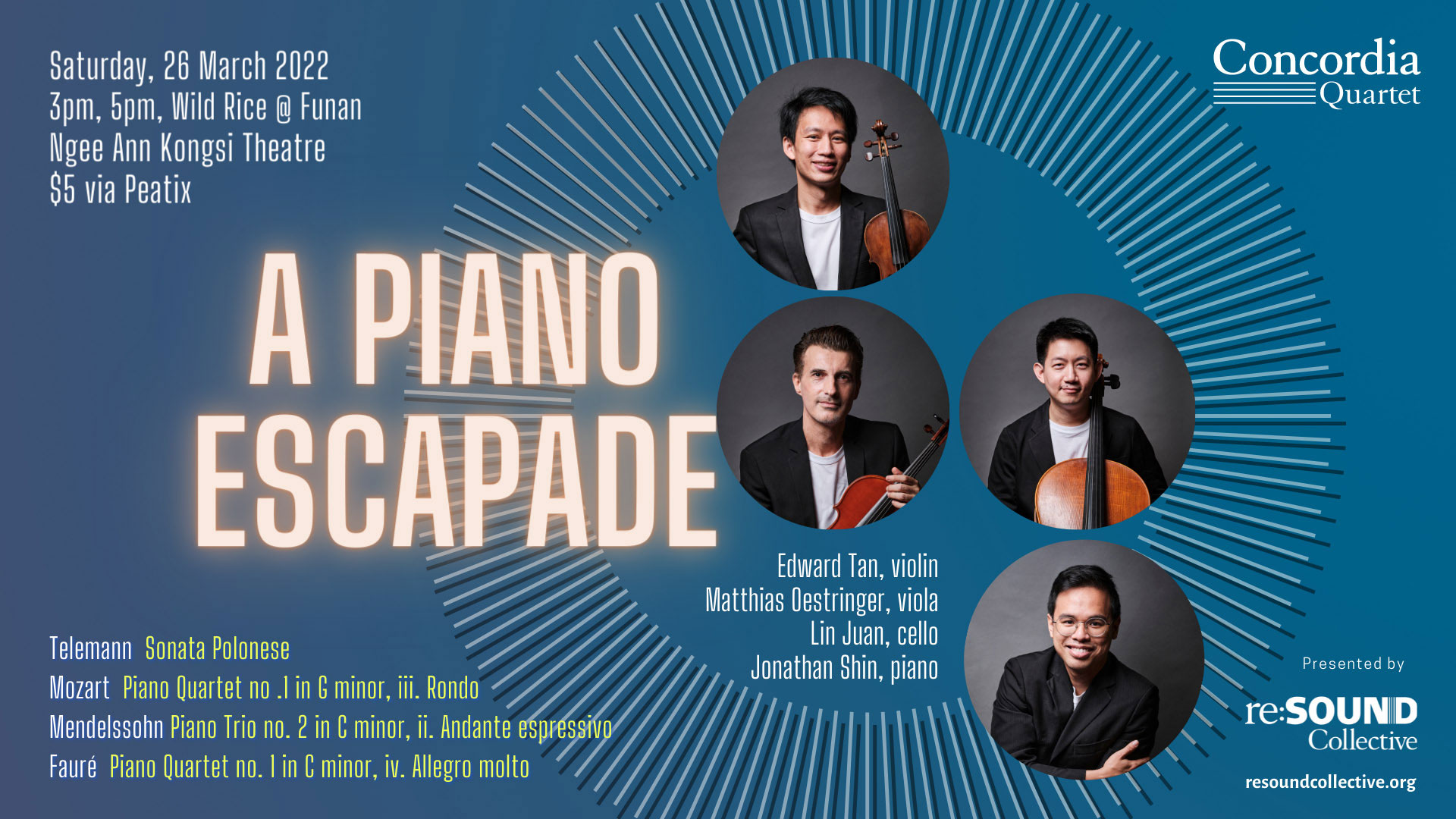 A Piano Escapade
Saturday, 26 March 2022
3pm, 5pm
Wild Rice @ Funan
Ngee Ann Kongsi Theatre
Featuring
Edward Tan, violin
Matthias Oestringer, viola
Lin Juan, cello
Jonathan Shin, piano

Tickets from PEATIX $5
SYNOPSIS
Things have just not been the same for the Concordia Quartet ever since one of their violinists went on a little sojourn. She'll be back soon, but for now, there's a gaping violin-shaped hole in the quartet's heart!
There's plenty of hemming and hawing in the quartet's living room, but one afternoon, the remaining members hear the ghost of a faraway sound… is that a tinkling of a piano, or are they just dreaming?
The Concordia Quartet are still four musicians, but this time, they are on a piano escapade! Join them as they present selections from the less-often-explored genre of the piano quartet, with selected movements from classics such as Mozart's and Felix Mendelssohn's first piano quartets, as well as Fauré's masterful and incandescent Piano Quartet No. 1.
PROGRAMME
Telemann
Sonata Polonese
Mozart
Piano Quartet no. 1 in G minor, iii. Rondo
Mendelssohn
Piano Trio no. 2 in C minor, ii. Andante espressivo
Fauré
Piano Quartet no. 1 in C minor, iv. Allegro molto
Programme duration ~ 60 min. No intermission
This will be a LIVE concert, with free seating. Proof of vaccination is required. Please book your tickets early.
---