Concordia Quartet's Valentine Pastorale 123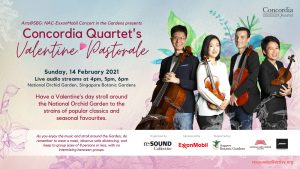 Concordia Quartet's Valentine Pastorale
Sunday, 14 February 2021
Live audio streams at 4pm, 5pm, 6pm
National Orchid Garden, Singapore Botanic Gardens
Free admission
MUSICIANS
Edward Tan
Kim Kyu Ri
Matthias Östringer
Theophilus Tan
---
Have a Valentine's day stroll around the National Orchid Garden to the strains of popular classics and seasonal favourites.
As you enjoy the music and stroll around the Garden, do remember to wear a mask, observe safe distancing, and keep to group sizes of 8 persons or less, with no intermixing between groups.
Please observe the Covid-19 safety measures of the Singapore Botanic Gardens. Only 150 persons will be admitted at any time to the National Orchid Garden.
---